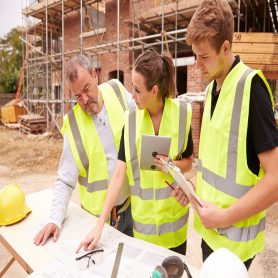 Site Inspections & Safety Audits
On construction sites, whether temporary or permanent, regular audited checks are required to ensure they remain safe and fit for purpose. These site checks form part of the health and safety plan and may be called upon in the event of an issue or accident.
Work Safety Solutions provide this service to a range of clients on both a planned and unannounced basis so as to encourage and enforce continual commitment to health and safety standards at all times.
Inspections and audits are a core part of health and safety implementation and if handled correctly become a welcome part of the project process by all concerned.
We have experience in inspections and auditing and have an agreed way of working that gains cooperation from staff and contractors without impacting efficiency or causing unnecessary delay to projects or works.
For friendly, efficient, but most importantly careful review of your health and safety in action, please contact us on: 01494 445774 or email info@cdm2015regs.co.uk